3D Cell Culture incubator : CLINOSTAR™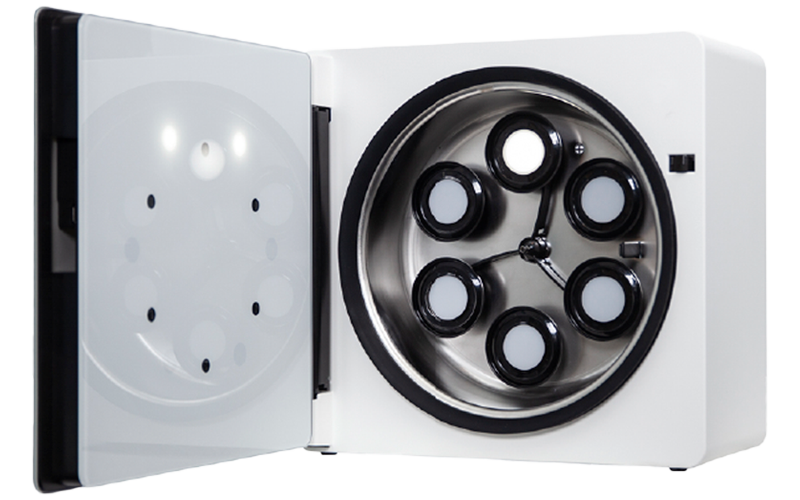 ClinoStar, Stress-free 3-D Cell culture system은 Clinostat 방식으로, 회전을 사용하여 중력의 영향을 무효화 시켜 스트레스가 없는 환경에서 세포를 배양하는 장비입니다. ClinoStar 는 조직과 유사한 구조와 생체 내 기능을 통해 3D로 세포를 성장시킵니다. 회전으로 생기는 기체 및 영양소의 활발한 교환은 재현성이 높은 오가노이드 및 스페로이드를 생성을 보장합니다. 6개의 clinostat을 장착해 각각은 직관적 인 소프트웨어를 사용하여 제어되며, 실시간으로 세포의 성장을 관찰할 수 있습니다.
Features
ClinoReactor is a bioreactor with a fixed 10 mL culture chamber, that is supplied sterile in a sealed and wrapped package for convenient use and to limit the infection risk. The humidification beads supply water for the culture chamber, which eliminate the need for water in the incubator. To prevent cell, protein and drug absorption, the bioreactor is made from low bind polypropylene and polystyrene. The optically clear properties of the polystyrene enables microscopy of the spheroids or organoids in a closed environment.
1

Push to open

For convenient hands free opening and reduced contamination risk.

2

Adjustable light

Can contain and maintain over 350 mature cell Constructs.

3

Small footprint

Fits anywhere, even in your laf-bench.

4

Uniform environment

The large heating element and fan ensure an equal distribution and low bariability of heat and CO across the chamber.

5

Connectivity options

An ethernet connection allows for direct internet access or receive software updates via the control unit.

6

Decontamination

Automatic UBC - decontamination cycles.
How to work with CLINOSTAR
Spheriod and organoid development
1. Select aggregation method
Following 2D cell expansion, the cells can be seeded in the ClinoReactor with one of three approaches: single cell suspension or initial aggregates preformed in hydrogel or micropattern plates.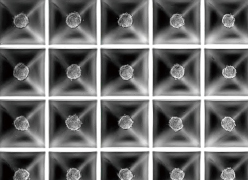 2. Transfer to ClinoReactor
In the ClinoStar® system, you can use your regular cell culture media and supplements, obviate the need for specialised media, scaffolds, ECM substitutes or growth factors.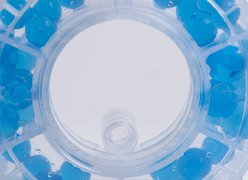 3. Cultivate in ClinoStar®
In the cultivation phase, cell culture media is routinely renewed, and irregular constructs are removed from the ClinoReactor to ensure uniform growth. Check that your constructs are functional against a parameter that can be assayed in vivo.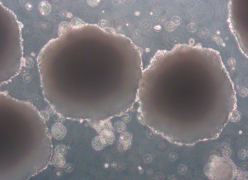 4. Mature the constructs
When the cell lines have recovered their functionality, they are considered mature and ready for experiments. For HEPG2/C3A cells each ClinoReactor will hold around 350 spheroids after 18 days of maturation.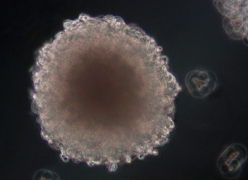 Specification
Clinostar
Door
Close mechanism
Push - click - swing open
Open mechanism
Push to close - click
Axles
Capacity
6 axles
Speed range(rpm)
0 - 100
Speed Accuracy
±1%
Direction
Clockwise or anti clockwise
Control
Independent
Temperature data
Temperature range
From 6 to 20℃ above ambient
Temperature accuracy
± 0.25℃
Co2-data
Co2 range[Vol.-% co2]
0 - 10%
Co2 measurement
IR
Co2 calibration
Factory calibrated for 10 years
Monitoring
Cameras
6(placed opposite to each axle)
Camera resolution
5 Megapixel
Lighting
Front and back LEDs for each axle
Decontamination
Incorporated method
UV-C LED 300mA
Time
User activated (2hours runtime)
Controller
Device
Tablet
Communication method
Wi-Fi,Ethernet
Screen size
10,1"
Screen resolution
1920 x 1200
Units to control
50
Safety
Paused while door is open
UV-C emitting LED, fan and CO₂
Connectors
USB
Back and front (in door)
Network
Ethernet (RJ-45)
CO₂
Ethernet port provide 1500V insulation
Footprint
Space saving configuration
Up to 3 units can be stacked on top of each other
(the stacking bar must be used to increase their stability)
Rated Voltage [V]
100 - 240 V
Power frequency [Hz]
50 - 60 Hz
Nominal power [A]
1.8 A
Power cord length
2 meters
Appliance Class
Class Ⅰ equipment
Pollution Degree
2
Overvoltage category
Ⅱ
Product information
| Cat No. | 품명 | 규격 | 제조사 | 제품정보 |
| --- | --- | --- | --- | --- |
| 30002 | ClinoStar | - | Celvivo | The clinoStar enables you to culture cells in 3D. Intuiative software controls the temperature,CO2 level and each of the 6 clinostatmotors independently.k Cameras allow you to see your experiments without opening the dor. |
| 31001 | Control Unit | - | Celvivo | -Additional control unit; tablet with operating software pre-installed |
| 10004-12 | ClinoReactor 10ml - 12 Pack | - | Celvivo | -12x ClinoReactors with 10ml incubation chamber and solid waterbeads |