LabTurbo 24 AIO SP-qPCR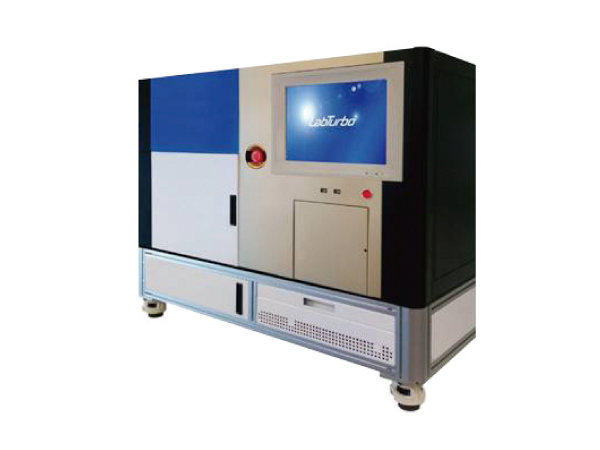 The LabTurbo AIO (All-in-One) SP-qPCR Automation System is a fully integrated system providing a non-stop automation of DNA / RNA extraction, PCR setup, qPCR to report with one-click in one compact, machinery box. The AIO system is your reliable and intelligent robotic expert in molecular testing with excellence in sensitivity and result consistency.
Feature
1

All-in-One

LabTurbo AIO integrates DNA/RNA extraction system, PCR reaction setup, qPCR thermocycler, and detection analysis report functions all in the compact robotic box. It is basically a complete, full function PCR laboratory all in a compact system.

2

Quality Assurance

The LabTurbo membrane column technology and mechanical process ensure consistent sample processing and liquid- handling with reliable results. It also eliminates human errors, manual processing variances, contamination, and risk of handling errors in between transfers.

3

Cost-effectiveness

LabTurbo AIO reduces the expenses on laboratory spaces, personnel, human resource, maintenance, and regulatory costs. The streamlined process ensures on schedule laboratory workflow and avoids unnecessary repeats due to handling errors or manual inconsistency.

4

Versatility & Flexibility

LabTurbo AIO qPCR system is an open system and can be used with any qPCR kits for various target detections. The system can also perform DNA/RNA extraction, PCR setup, and qPCR independently to satisfy different needs.
Specification
LabTurbo 24 AIO SP-qPCR
Model Type
Bench-top
Sample Volume
0.3 - 2 ml
Throughput
24 Samples in 2.8 hour
Pipette Channels
and Volume
6 (Sliding Span 9 - 18 mm), 5 - 1000 ul, CV within 5%
qPCR Channel
FAM, HEX, ROX, Cy5
PCR Reaction
Rate
15 - 60 ul, CV within 5%
qPCR Ramping
Rate
Heating: 2 ℃/s, Cooling: 1.5 ℃/s
Temperature
Accuracy
± 0.5 ℃ (after 30 seconds)
Temperature
Uniformity
± 0.2 ℃ at 50 ℃, ± 0.3 ℃ at 72 ℃, ± 0.5 ℃ at 95 ℃
Related product
Product
(Cat. No)
Features
Component
LabTurbo 24C
(C2420)
Whole blood, Buffy coat, Cell Culture, Bacteria Culture, Blood Cells, Saliva, Urine, Animal tissue, Plant tissue

6-strip sample / elution tubes and cap

Lysis buffer, elution buffer, wash buffer

Proteinase K

LabTurbo Virus Kit
(480 preps)
Serum, Plasma, Cell free body fluid, Buccal swab, Vaginal swab, Pharyngeal swab, Stool, FFPE tissue
LabTurbo cirDNA kit
(480 preps)
Serum; Plasma:
Circulating Nucleic Acids
LabTurbo RNA kit
(480 preps)
Buffy coat, Cells, Animal tissue, Plant tissue
LabTurbo Forensic DNA kit
(480 preps)
Forensic samples:
Oral swab, blood swab, cigarette butt, straw, rubber glove, bloodstain, mask, FTA card, chewing gum, hair root, tape
LabTurbo Stool DNA kit
(480 preps)
Stool