DeNovix series
The DS-11 FX Series is the first life science instrument awarded the prestigious Platinum Seal of Quality by SelectScience based on scientist reviews for outstanding ease-of-use, performance, service and technical support (SelectScience.net). The instrument rapidly quantifies over seven orders of magnitude of nucleic acids and protein samples selecting your choice of UV-Vis or Fluorescent modes.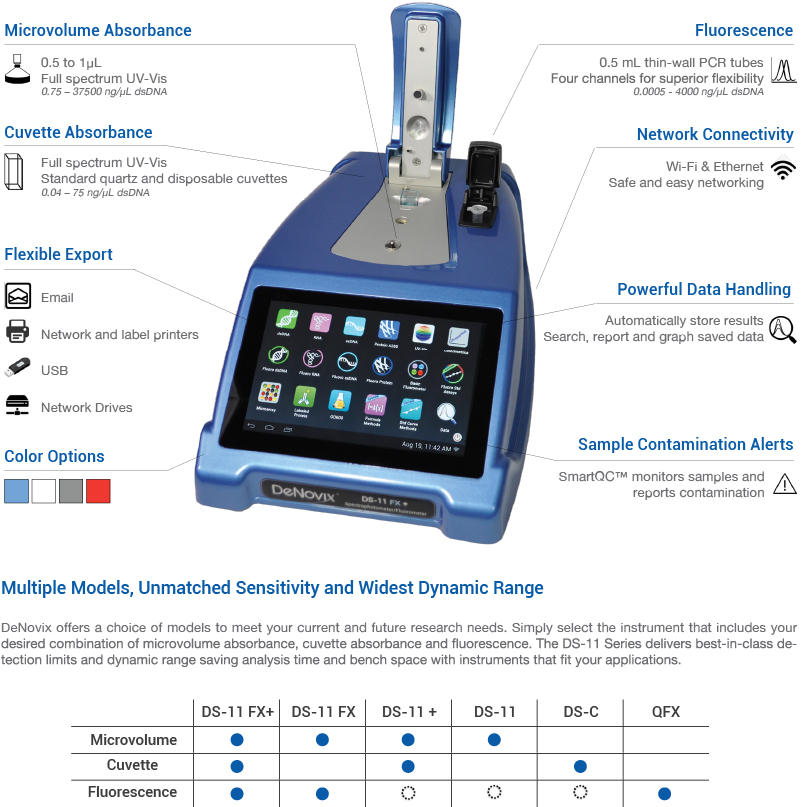 Equip your lab for today's quantification requirements and for future assay challenges. The choice of microvolume or cuvette absorbance and fluorescence methods delivers unmatched flexibility and dynamic range. Coupled with the DeNovixdsDNAquantification assays, a range of 0.5 pg/µL to 37500 ng/µL can be rapidly measured
Feature
1

하나의 장비로 spectrophotometer와 fluorometer 가능

2

190 ~ 940 nm full wavelength 2 초 이내 측정 가능

3

Pathlength 0.5 mm로 정확성 및 뛰어난 재현성

4

Multi-channel fluorescence (4 channel)

5

Custom Linux® OS 장착으로 PC 설치 불필요

6

다양한 export 형식 (network, WiFi, USB 이용 가능)

7

Smart pathlength 기술로 recalibration 불필요

8

무상 서비스 2년
Procedure
Total Measurement Confidence
The patented* DS-11 FX combines unique hardware and software features to deliver unmatched confidence in sample accuracy, performance and reliability.
•SmartPath® Technology – real time, precise pathlengthcontrol delivered every time
•Exceptional for proteins – BridgeTesting® eliminates broken sample columns common on other platforms
•Calibration and maintenance free – no measurement drift, no service down-time. Accurate results every time.
•Industry-leading 3-year warranty
Contamination Alerts
SmartQC™ monitors every sample measured for the presence of common contaminants, highlights these samples to the user and advises on potential issues. SmartQCalso solves the problem of samples being left to dry on the measurement surface by monitoring the sample measurement and cleaning process and warning when the sample has not been removed.
Easy to Learn, Fast to Use
The DS-11 FX Series instruments feature the most powerful and intuitive software of its type. EasyApps® software is designed by life scientists and combines with a breakthrough Android™ touchscreen interface to ensure error-free operation and sample to data in under 4 seconds. Every instrument is ready for absorbance and fluorescence measurements right out of the box – no PC set-up or software installation.
Fluorescence Freedom!
The most sensitive and precise fluorometer of its type provides the ability to run almost any common fluorescence assay. Choose from a wide range of pre-configured kits or create custom applications for total flexibility. Combine the DS-11 FX with the DeNovix dsDNA fluorescence quantification kits for industry-leading sensitivity and dynamic range. Quantify to 0.5 pg/µL up to 4000 ng/µL with your choice of three quantification kits.
Unmatched connectivity
Built-in Wi-Fi, Ethernet and USB allow easy export of data you want in the format you need. Email a csv or color jpg of your results right from EasyApps…save data to LIMS or network drives…print results or graphs to network and label printers…and more!
FX Series Spectrophotometer / Fluorometers are available in four colors and two models:
✭ DS-11 FX+ (1µL UV-Vis, cuvette UV-Vis + fluorescence)
✭ DS-11 FX (1µL UV-Vis + fluorescence)
Video
Specification
Microvolume mode
| | |
| --- | --- |
| Minimum Sample Size | 0.5 ㎕ |
| Pathlength | 0.5 mm (auto ranging to 0.02 mm) |
| Light Source | Pulsed Xenon flash lamp |
| Detector Type | 2048 element CCD |
| Wavelength Range | 190 ~840 nm |
| Wavelength Accuracy | 0.5 nm |
| Wavelength Precision | 0.14 nm |
| Spectral Resolution | 1.5 nm (FWHM at Hg 253.7 nm) |
| Absorbance Precision | 0.015 AU (1 cm), or 1% |
| Absorbance Accuracy | 1.5% at 0.75 AU at 260 nm |
| Absorbance Range | 0.015 – 750 (1 cm equivalent) |
| Detection limit | 0.04 mg/ml BSA; 0.75 ng/㎕ dsDNA |
| Maximum Concentration | 1125 mg/mL BSA; 37500 ng/µL dsDNA |
| Lower Sample Surface Material of Construction | 303 stainless steel and sapphire window |
| Upper Sample Surface Material of Construction | 303 stainless steel and quartz fiber |
Cuvette mode
| | |
| --- | --- |
| Beam height | 8.5 mm |
| Heating | 37 ~ 45 ℃/± 0.5 ℃ |
| Pathlength | 10, 5, 2, 1, 0.5, 0.2, 0.125 mm |
| Absorbance Range | 0.0008 ~ 1.5 AU (1 cm) |
| Detection limit | 0.002 mg/ml BAS;0.04 ng/㎕ dsDNA (1 cm) |
| Maximum Concentration | 75 ng/㎕ dsDNA(1 cm) |
Fluorometer mode
| | |
| --- | --- |
| Light Sources | UV LED (~375 nm), Blue LED (~470 nm), Green LED (~525 nm), Red LED (~635 nm) |
| Excitation Filters | UV: 361-389 nm, Blue: 442-497 nm, Gree |
| 490-558 nm, Red | 613-662 nm |
| Emission Filters | 435-485 nm , 514-567 nm, 565-650 nm, 665-740 nm |
| Detectors | Photodiode, detection range 300-1000 nm |
| Tube type | 0.5 ml Real Tme thin-wall PCR tube (polypropylene) |
Product Information
| Cat No. | 품명 | 규격 | 제조사 |
| --- | --- | --- | --- |
| DS-11 | Microvolume Spectrophotometer | - | DeNovix |
| DS-11+ | Microvolume Spectrophotometer with Cubette mode | - | DeNovix |
| DS-11 FX | Microvolumen Spectrophotometeometer /Fluorometer | - | DeNovix |
| DS-11 FX+ | Microvolume Spectrohotometer with Cuvette mode /Fluorometer | - | DeNovix |
| DS-C | Cuvette Spectrophotometer | - | DeNovix |
| QFX | Flourometer | - | DeNovix |